Matters Criminous
crime / mystery / detective literature:
a critical list with discussions
About the Host of Great Science-Fiction & Fantasy Works
"'My surname is Li and my personal name is Kao, and there is a slight flaw in my character,' he said matter-of-factly."

--Bridge of Birds,
Barry Hughart

Having been advised by webmasters to whom I have submitted this site as a possible link that it is cumbersome to refer to "the anonymous person who created that site" in discussions, I set forth the following: my name is Eric Walker, and I like to read good mystery-crime-detection books (and also good science fiction and fantasy books).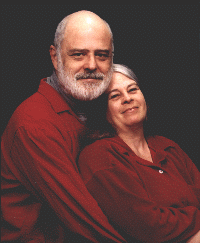 I set forth little more, because what you cannot find of me in what I have placed on this site is not important, at least so far as this site is concerned.
But thank you for asking.
(The really curious can discover more by visiting the main Owlcroft Company website.)
Over on the right is a reasonably recent photograph of me and my lady.
This site
and pride.
---

You loaded this page on Wednesday, 20 October 2021, at 18:49 GMT
it was last modified on Thursday, 1 January 1970, at 00:00 GMT